AS A RULE, you should avoid sharing your passwords with other people. With accounts being more personal and more data being saved on these accounts, there's less need to do so.
One possible way to share passwords is through a dedicated site like One-time Secret. A free, open-sourced site, it creates a link that only works once. Once the person who receives the link clicks on it, they can never see that link again.
You can add an extra layer of security by including a passcode so if by chance someone else comes across the link, they have another hoop to jump through.
The link is active for seven days but you have the option of burning (deleting) it at any time.
To use One-Time Secret, visit its Web site, paste the relevant password from your password manager into the "Secret content goes here" field, and press the Create A Secret Link button.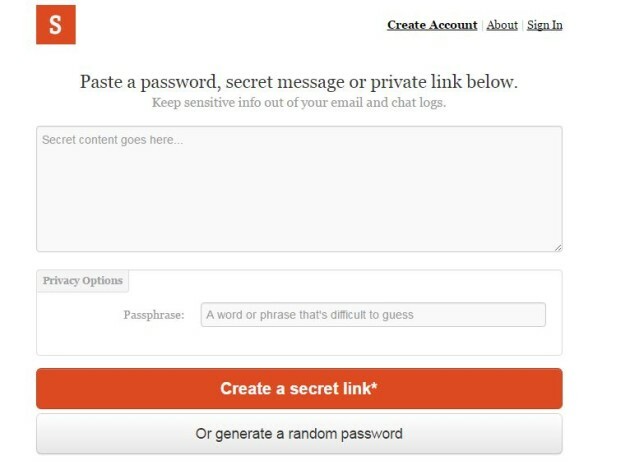 Source: One-Time Secret
Copy the link that's generated, and send it to your recipient.
If you bought any services through bizgroundup , then you should use this way to share your web and hosting access .
How you choose to do that depends on the importance of the account. For most situations, where hackers aren't actively targeting you and the account in question doesn't protect confidential data, it's probably fine to send the username and the link to the password in separate email messages so they can't be connected easily. For more security, send the username via email and the password link via Messages (or vice versa). Whatever method you choose, follow up with the recipient to make sure they were able to retrieve the password and store it in their password manager.
That follow-up is key. Since a One-Time Secret password link can be used only once, if the recipient isn't able to access it, that's solid evidence that someone else did. If this happens, change that password immediately!
These ways of transferring a password suffer from one major concern — what if someone is intercepting all traffic between you and your recipient? Or worse, has compromised the recipient's computer such that the attacker can read all email and text messaging traffic? Unlikely, I know, but you can step up the security at One-Time Secret to address this possibility. In essence, you'll protect your password with another password.
To do this, when you're creating your password link, enter a word or phrase into the Passphrase field (make it easy to type, since you're not going to communicate it as text). Then call your recipient — via phone, Skype, FaceTime Audio, Google Hangouts, Slack, or whatever — and convey the passphrase audibly. When they use the One-Time Secret link you send, they'll be prompted for that passphrase, which only they could know, since it was transferred in an entirely different fashion. For the ultimate in security, you could communicate the passphrase indirectly with information only the two of you would be likely to understand ("It's the nickname we use for the lead developer."). Yeah, cloak and dagger stuff, I know.
How you shouldn't share passwords
Anything that involves clear text should be avoided entirely. That means writing it down in a text message, email, word document that you forward on or any other method where it could be public or around indefinitely.
Even if you message it and then quickly delete it, you should assume that these are not secure platforms to share on. Always make sure you're sharing through a service that offers the right precautions so nobody else can discover it.